How do I do a carpet spot removal?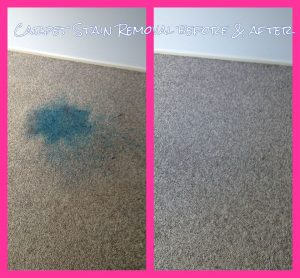 The question is carpet spot removal a spot or a stain? Their is a big difference between a carpet spot removal to a carpet stain removal.  A carpet spot what many people may think is a stain in true fact is a build up or dirt on the carpet that attracts dirt and dust on a previously wet or sticky area caused in most cases from wet shoes or splash of a  drink.
A carpet spot removal can be cleaned and treated quickly if acted on when the spot is fresh.  Most dust and  dirt spots can be cleaned using 2 parts laundry detergent to 8 white parts vinegar which can be mixed into a spray bottle and sprayed on the spot then blotted with a clean fresh rag or cloth.  DO NOT rub the dirty spot as you will be spreading the  dirt and dust from the spot and pushing the dirt further into the carpet fibres which can cause damage to the carpet fibres.
Blotting should always been done when treating either spot removal or stain removal and working from the outside of the area to the inside of the area this avoids spreading of the affected area.  Never rub a spot or stain as this spreads the spot or stain further into the carpet and sometimes carpet underlay and causes damage to the carpet fibre.  If the damage does reach the carpet underlay or under the carpet onto the subfloor the risk of the spot or stain reappearing further down the track and on repeat cleaning  as the cleaning  process brings the stain or spot  to the surface.   As steam cleaning of carpet the process is about prespraying the carpet with detergent and extracting the dirt and dust from the carpet.
So when a spot or stain has been rubbed in or pushed into the carpet the cleaning process will extract whatever stain or spot was previously there from the underlay or subfloor to the surface of the carpet and this is where constant reoccurance keeps happening time and time again.
A stain on a carpet is usually not dirt related but a product that has been tipped , spilt, dropped, drawn on, squashed into the carpet and cannot be easily removed.  We have dealt with lots of different types of stains from blood stains, makeup stains, urine and faeces from both pets and humans, vomit, children' art with crayons and texta's.
We understand that accidents do happen for many reasons and a stain needs to be treated individually as there are many factors to stain removal based on the type of carpet and the product that has caused the staining and  when it happened. Carpet is a material and can made of different fibres such as wool, nylons, oflin, acrylic, and polyproplenyne just to name a few.  We treat carpet stains carefully just like we do our laundry we wash and treat and clothes based on the different mateerials.  The rule is we wash whites seperatley to colours, we wash some clothes in warm water and wash some clothes in cold, we wash our delicates on a handwash or delicate wash not on a normal or heavy cycle.
So not sure if it is a spot or stain we are happy to provide a no obligation advice over the phone in assisting in remedies or require us to come out and do a professional stain removal process feel free to contact us on 0410 555 457.
Check out our facebook page Grizzleys Cleaning Services for our work for spot and stain removals we have done.  We have both before and after photo's